On Monday, Feb 20th (Louis Riel Day) we will be hosting a free community workshop on Health and Fitness!
Click Here for the details
Hello, and welcome to Innovative Martial Arts!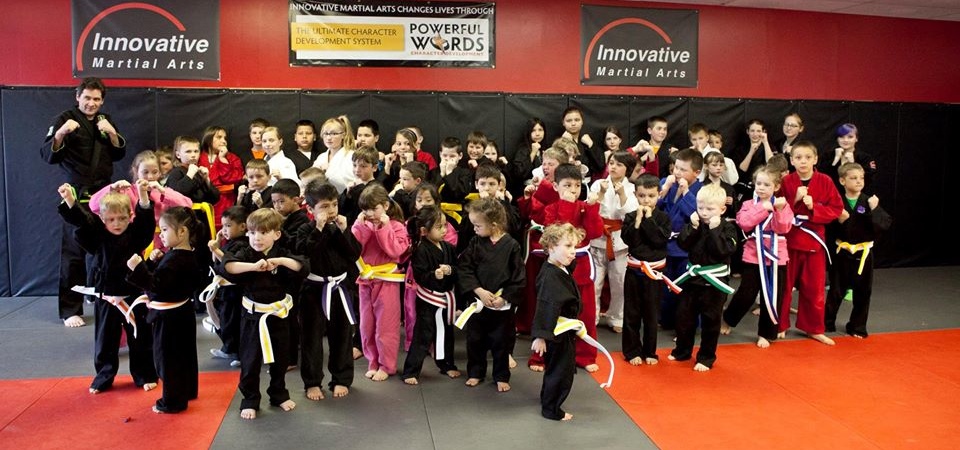 We are proud to provide you with the most comprehensive self-defense curriculum, the highest quality of instructors, the most engaging programs and a warm, beginner-welcoming environment. Our goal is to provide you with the best possible training experience and to have everyone of our members in the best shape of their lives.
Walk through our doors and speak with our friendly staff and students, and you will see why we are the fastest growing Martial Arts school in Winnipeg.
We believe that martial arts training changes lives, and we are on a mission to spread this message to our community. The benefits of training at our school go so far beyond just kicking and punching. Every day our students tell us that they have seen improvement in their lives outside the gym – Benefits like self-discipline, confidence, weight-loss, stress reduction, focus and concentration.
Innovative Martial Arts was established to provide top quality martial arts instruction for all ages.  We place emphasis on fitness, safety, functional techniques and having fun!

Our goal is to provide Martial Arts as a way to build confidence and maintain a high level of health and fitness in a way that is sustainable from preschool through retirement.  The depth of and strategy of the martial arts allows it to be a life long pursuit that has been enjoyed by countless practitioners and helped build many strong community and business leaders.
In many areas of the world training is started young, even as a required area of study in many part os the world in modern times and historically.  This is due to the huge benefits that training can bring in terms of fitness, confidence, stress management and leadership.
The strategies and principles of the martial arts can be applied in every day life, with martial arts strategy text such as "The Book of Five Rings" and "The Art of War" being studied by high level leaders and business people.
In Okinawa there was a common belief that the quality of a persons martial arts could be judged by how long they lived, as proper training was good for the health, and martial artists where known to be long lived and healthy into old age.
We aspire to follow these traditions in how we train.
For more information on our programs please select the program that most interest you:
We offer confidence building classes for kids ages 3 and up. They will get in great shape, have fun, and grow into strong and confident leaders while learning practical and age appropriate martial arts.
Want to get into amazing shape? Need to recover lost energy? Our fitness classes are making big waves through amazing results!
If you've been watching it on TV and wanted to give it a try these classes are for you. We offer classes from beginner through experts on all areas of the sport. Whether you are looking to have a fun hobby to keep you in shape or looking to get in the ring and compete we have classes for you!
Make this summer a productive one with our summer camps. Open to children age 5-12 we have several fun weeks of training mixed with life lessons and character development planned.